As the summer heats up, so does Dylan's schedule.  Dylan is slated to race six weeks in a row with the culmination at the Lucas Oil Raceway in Brownsburg, IN on
July 22nd
in the
ARCA Racing Series
 Sioux Chief PowerPEX200. This will be Dylan's second ARCA race of the season and it presents a unique opportunity for marketing.  The race will be televised on FoxSports1 and with Empire Racing Group's partnership with
Richard Petty Motorsports
the level of advertising could be limitless. Dylan has spent the last couple races honing his skills of racing heavier cars.  The technique to race the heavier perimeter cars is unlike racing the lighter straight-rail cars in Florida.  While there has been a learning curve for him these last few months, with the direction of his Crew Chief, Grumpy Cheek, the support of his crew/team and the addition of Alex Yontz as a driving coach, Dylan has made great strides in getting comfortable behind the wheel and pushing his car to the front.  The team has worked tirelessly to give him a car that he can wheel.  On June 4th Dylan took to the historic
Hickory Motor Speedway
.  Although
mother nature tried to dampen the day, Dylan was excited to finally take on a track he had hoped to race for several years.  He was surprised with two special guests, Kim Scheffler (Dylan's past PR Manager) and Skyla (one of the recipients of the CARS Racin' For A Cause charity that Dylan supports).  It was special to have both of them there for his first race at this track.  Kim and Skyla drove from Florida early
Saturday
morning to arrive at the track just before qualifying.  And even though the rains did come, the track did an excellent job at drying the track and preparing the racing surface for the drivers.  With the rain delay the team was able to enjoy their guests including
Kyle Petty
, Thad Moffitt's uncle.  Thad, Dylan's teammate, was racing in the Limited Late Model class where he is leading in points in the Southeast LLMSC Series and Kyle Petty came to support the team.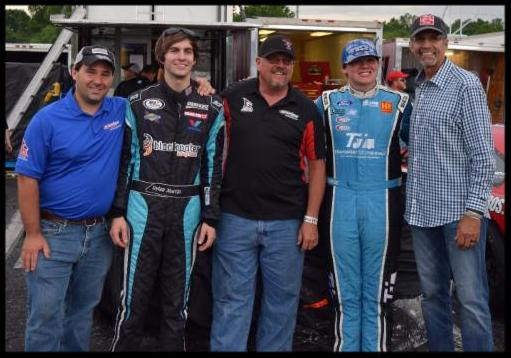 Sean Corr, veteran
NASCAR
driver, was able to be at the race as well.  The Empire Racing Group pit was full of legends, veterans and up-and-coming drivers. The team was relaxed and ready to take the green flag.  By the time Dylan's NASCAR Whelen All-American Late Model Stocks took the track, moisture had settled into the radio components in Dylan's car.  The crew worked to fix the problem and was able to find a temporary solution, but it didn't last long and Dylan found himself racing the 100 lap race with no radio communications with his crew chief/spotter or team.  The race had some long green flag runs and with just a few cautions it made it difficult to diagnose the issue and repair it track side.  Dylan managed to race those 100 laps without incident.  He brought the car to the checkered flag in 10th place.  We are sure the pre-race prayer Miss Kim had with Dylan sure did the job. The "world's most famous short track" and Dylan has added his name to the list of drivers that has put rubber down on that track.  Dylan is headed back to Hickory Motor Speedway today and he is anxious to improve on his results.
National Exposure for your business through Nationally Televised Races
We have many sponsorship opportunities. Dylan's upcoming races that will be televised will offer advertising opportunities that could be endless.  Dylan will be racing his ARCA car at Lucas Oil Raceway in Indiana
July 22nd
and we have room on the hood for you.  The race will be televised on FoxSports1 and NASCAR's Xfinity and Sprint Cup races will also be that weekend at Indianapolis Speedway.  The potential for media exposure is great for this weekend and Dylan would be a good investment for your advertising funds.  Give us a call or email and we will be sure to work a package that meets your budget. Single-race or monthly sponsorship packages are available.
Staci Martin
Dylan and the team headed back to Caraway Speedway last Saturday (June 18th) and they were renewed with energy and drive.  It was a hot North Carolina day and the crew poured sweat into both Dylan and Thad's cars making sure they were giving them the best cars they could.  Throughout the morning practice sessions, they made adjustments and were confident come race time, the cars were going to perform.  Dylan went out for qualifying and laid down his fastest time of the season at Caraway with a 17.207.  This would have been a time good enough to put him in the top 5 except the veteran drivers at this track went out and laid down 16.991 and although Dylan would be starting 7th in the field, the team was happy with the qualifying results of the day. Thad Moffitt was also racing in the NASCAR Whelen All-American Late Model Stock class for his debut in that class.  His grandfather, Richard Petty, came to support Thad and the team.  With racing royalty in the pits, Dylan was pumped to have a good race.  The next 125 laps would prove to be evidence of his and the whole team's hard work over the last few months.  With a couple cautions by lap 60, Dylan was running 5th and the crew had given him a couple adjustments to make the car as strong as they could. Thad's night ended early with damage to the nose of the car but he learned a lot with it being his first late model stock race and Richard was there to lend support and advice for Thad that will surely go a long way.  Dylan drove the wheels off the car and brought home a 5th place finish at the checkered.  It was a great night for racing and the team celebrated the strong finish.  Dylan will be headed back to Caraway Speedway on
July 9th 
eager to keep chipping away at those top 4 cars.
Credit: Dylan Martin Racing